It seems like a no-brainer – to get that membership at Costco so you can save a lot of money on groceries and household products. But if you're unsure whether a membership is right for you, take a moment to check out Costco's online site to see what products you're interested in, or visit a location in person to look around.
You can get a Costco membership for as little as $60 a year, which equates to about $5 a month. If you shop once a month, do you think you can save at least $5 on a one-way trip? To help you gain perspective and see how much you could potentially save with a Costco membership, here's a look at the price of 10 Costco signature products versus the price of 10 comparable products at Kroger with the savings calculated for you.
Read also – The 3 zodiac signs with the best horoscopes on Saturday December 3, 2022
Olive oil
How much you can save by buying the Kirkland product: $4.34
Olive oil can be expensive and quality is important. In addition, Kirkland's Signature Organic Extra Virgin Olive Oil is a high quality olive oil according to the experts. A two-quart bottle of Kirkland Signature Organic Extra Virgin Olive oil is only $15.99 at Costco.
For comparison, a 51-ounce bottle of Simple Truth Organic Unfiltered Extra Virgin Olive Oil at Kroger costs $13.29. In terms of price, the Simple Truth product is $2.70 less than Costco's brand, but you get 16 less ounces of product. The Costco product costs $7.99 per liter or $0.23 per ounce, while the Kroger product costs just over $0.26 per ounce. Even though there isn't a huge cost savings here, in terms of quality, the Costco product can more than make up for it.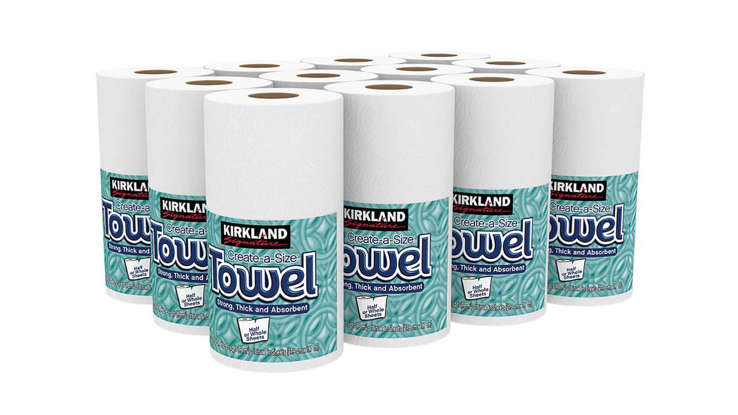 Paper towels
How much you can save by buying the Kirkland product: $1.83
You can get a really good deal when you buy Kirkland Signature Create-a-Size paper towels with 160 2-ply sheets per roll in a pack of 12 for $21.99. For comparison, a pack of six Kroger Select-A-Sheet Double Paper Towels with 110 2-ply sheets per roll costs $11.49. So you can buy two six-packs of the Kroger product for about the same price as Costco's product, but you get 30 less sheets per Kroger roll, which can add up.
Kirkland's paper towels cost about $1.83 per roll and Kroger's paper towels cost $1.91. The only difference is that you lose 360 ​​sheets (30 sheets x 12 rolls) – or about 2 1/2 rolls (there are 140 sheets in each roll of the Kirkland product) – if you buy the Kroger product.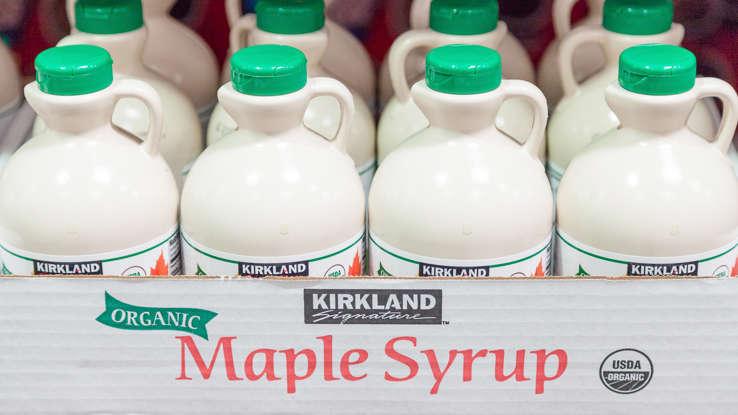 Maple syrup
How much you can save by buying the Kirkland product: $3.42
Nothing beats pure maple syrup on your pancakes. You can get Kirkland Signature Organic Pure Maple Syrup for $14.49 for 33.8 0unces or $0.43 per ounce. By comparison, Private Selection 100% Pure Grade A Amber Maple Syrup at Kroger costs $16.92 for 32 ounces or nearly $0.53 per ounce.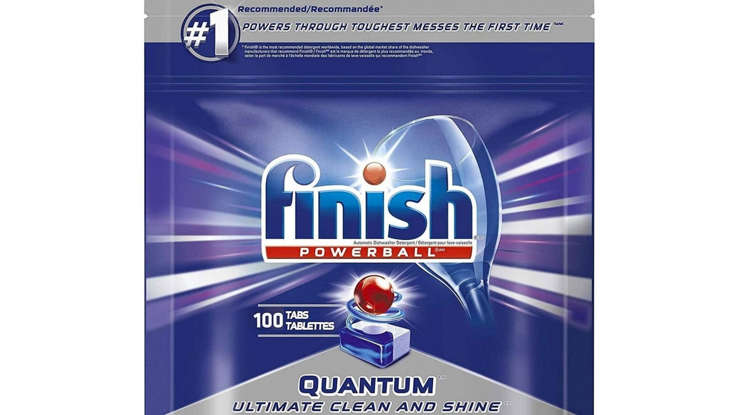 Dishwasher detergent tablets
How much you can save by buying the Kirkland product: $32.87
At Costco, Kirkland Signature Platinum Performance UltraShine Dishwasher Detergent Pacs, 115-count, are $11.39 or $0.09 each. At Kroger, Finish Powerball Quantum Dishwasher Detergent Tablets, 50 pack, are $14.29 or about $0.29 each. Here's where you can really save and pay almost a third of your Costco membership just from the savings you'll get from buying this one Costco product.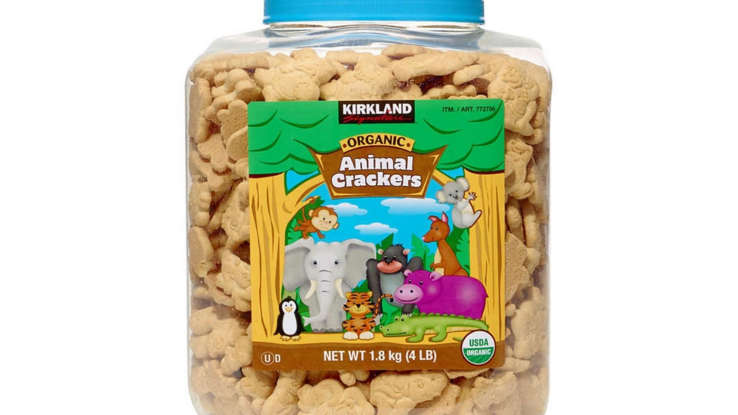 Animal Crackers
How much you can save by buying the Kirkland product: $2.96
If you have kids or you just like to have something simple, yet sweet to satisfy your sugar cravings without going overboard, animal crackers might be something you would buy. A 4-pound quantity of Kirkland Signature Organic Animal Crackers costs $12.99 or about $0.20 per ounce. For comparison, two 8-ounce packages of Simple Truth Organic Animal Crackers from Kroger are $2.99 ​​or $0.37 per ounce. If you like animal crackers, you can really save at Costco.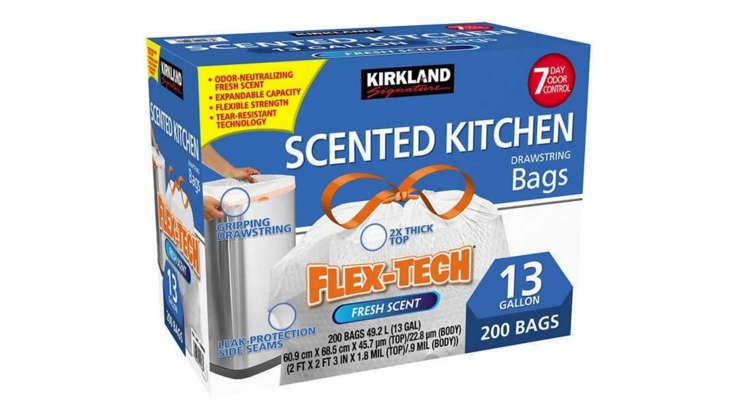 Kitchen garbage bags
How much you can save by buying the Kirkland product: $49.44
Kirkland Signature Flex-Tech 13-Gallon Scented Kitchen Trash Bags, 200-count are $22.49 or $0.11 per bag. Kroger Tall Kitchen Super Flex Bags, 34-count, are $8.99 or $0.26 per bag. Purchasing the Kirkland Garbage Bags can save you over $20, even if you have to buy more upfront. That's almost the total price of the $60 Costco membership.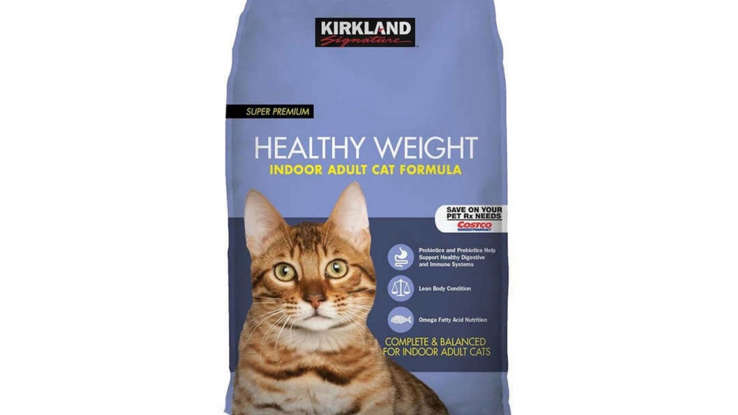 Cat food for weight management
How much you can save by buying the Kirkland product: $6.30
Overweight cats need a solution and weight management cat food can help. Kirkland Signature Healthy Weight Cat Food costs $32.99 for 20 pounds or $1.64 per pound. IAMS ProActive Health Chicken & Turkey Indoor Weight & Hairball Care Adult Dry Cat Food costs $15.74 for 7 pounds or $2.25 per pound. The Kirkland formula is not only cheaper, but also contains no corn, wheat or soy.
Read also – The love horoscope for each zodiac sign on Friday December 2, 2022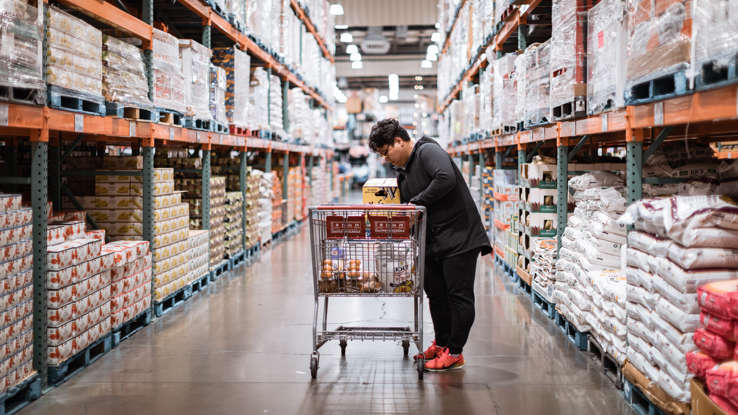 Is a Costco Membership Worth It?
If you bought every item on this list instead of buying Kroger's comparable products, you could save $101.16 in just one trip to Costco, more than making up for the $60 membership fee. And that's just one more trip. Dues must be paid once a year, so consider how many more opportunities you have to save. Yes, a Costco membership is worth it – as long as you use it.